Monday - Thursday - 6.00PM - 7.00PM, 7.30PM-8.30PM
Friday -  6.00PM - 7.00PM, 7.30PM-8.30PM, 9.00 PM - 10.00 PM
Saturday - Sunday - 12.00PM - 1.00PM, 1.30PM - 2.30PM, 3.00PM - 4.00PM, 4.30PM-5.30PM, 6.00PM - 7.00PM, 7.30PM - 8.30PM, 9.00 PM - 10.00 PM

Polish Cup (Grand Prix) will be taking place next weekend (January 19th - 20th from 9.30AM to 3.00PM) at the Arena Lodowa.
We kindly inform that public ice rinks will take place accordingly to the following schedule:
12.00PM - 1.00PM, 1.30PM - 2.30PM (short track)
3.00PM - 4.00PM, 4.30PM - 5.30PM, 6.00PM - 7.00PM, 7.30PM - 8.30PM, 9.00PM - 10.00PM (short and long track)
News
News / Coverages
2019-02-23

Nationwide Children's Competition - Final: February 23rd-24th

2019-02-11

Winter holiday: February 11st-24th

2019-02-09

Polish Championships - Youngsters: February 9th-10th

2019-01-19

Polish Cup (Grand Prix) - January 19th - 20th

2019-01-12

National Ranked Competition (Juniors WC Qualification Round) January 12th-13th 2019

2018-12-22

XXXVIII Polish Championships Sprint - December 22nd-23rd

2018-12-21

I Grand Prix - Super Talent 2018: December 21st -23rd

2018-12-14

1st anniversary of Ice Arena

2018-12-07

ISU World Cup Speed Skating (December 7th - 9th)

2018-11-24

Junior World Cup Speed Skating (November 24th and 25th)

2018-11-11

Ice Skaters for the Independent: October 9th-10th

2018-10-26

XXXIII Polish Distances Speed Skating Championships - October 26th - 28th

2018-10-13

First public ice rink with many attractions - October 13th

2018-10-12

International competition under the "Development" Program - October 12nd - 13rd

2018-09-21

Love Polish Jazz Festival (three-day-event: September 21st - 23rd)

2018-09-14

Agnieszka Chylińska concert

2018-07-01

Be Active Tour with Ewa Chodakowska

2018-06-21

Nationwide "Little Hero" Challenge

Grand Physical Competition for Elementary Schools

2018-06-08

VII Kids Roller Skating GRAND PRIX of Tomaszów Mazowiecki

two-day competition: June 8th-9th

2018-04-13

The BAJM Jubilee Concert - 40th anniversary of the band

2018-03-02

World Junior Short-Track Speed Skating Championships

three-day competition: March 2nd-4th

2018-01-19

Polish Championships in Short Track

three-day competition: January 19th-21th

2017-12-16

Polish Sprint Speed Skating Championships

two-day competition: December 16th-17th

2017-12-14

The Grand Opening of Ice Arena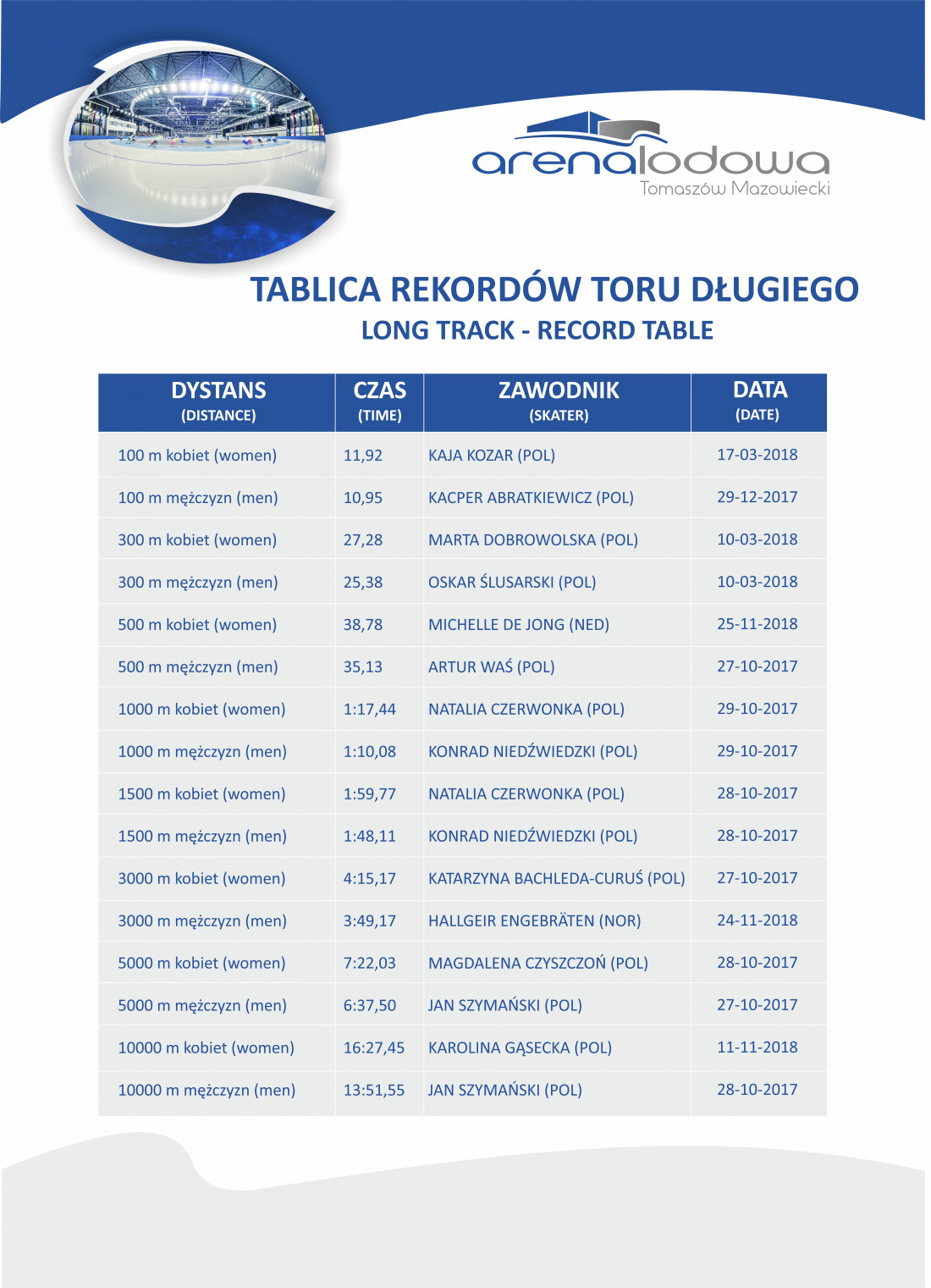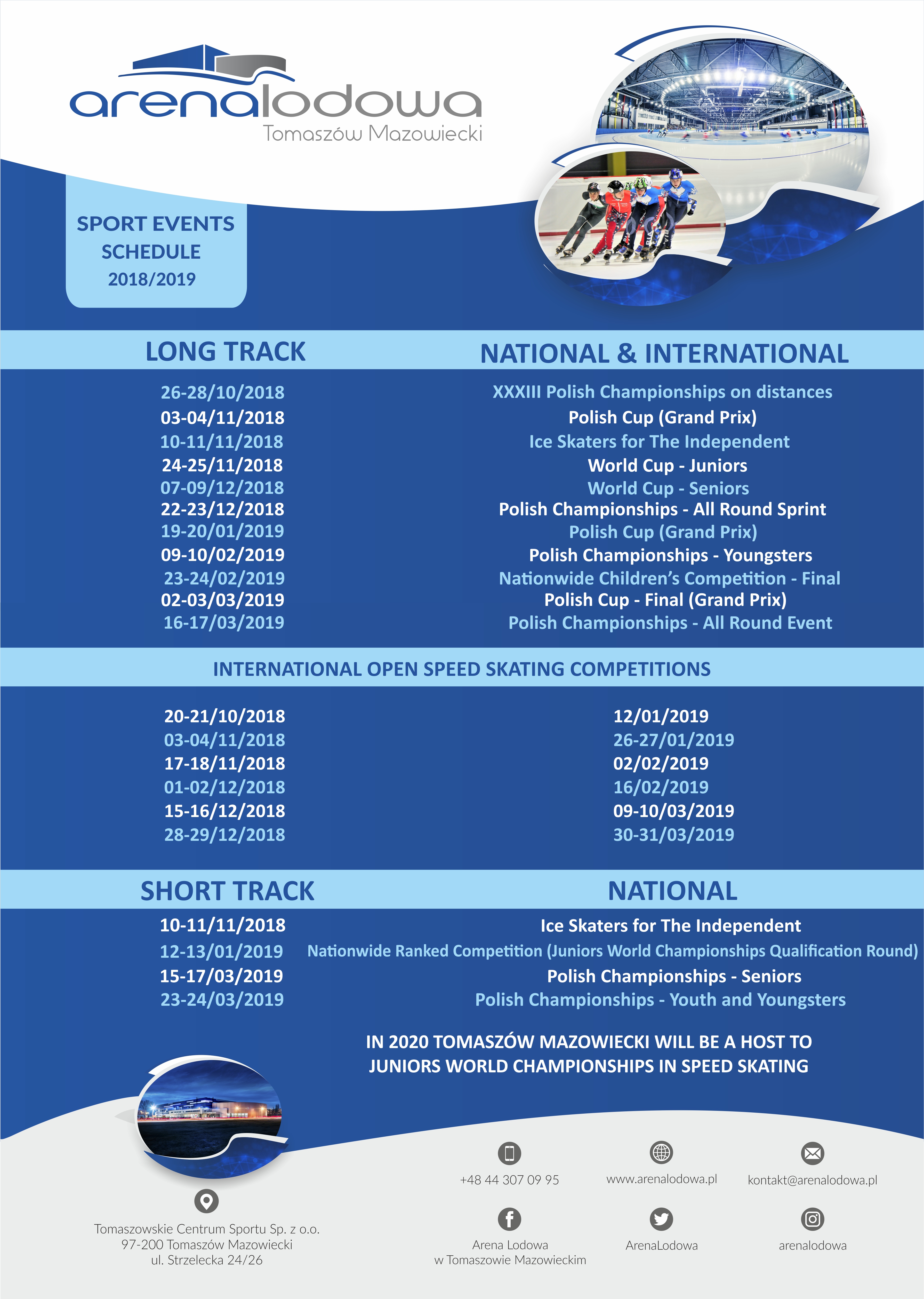 Videos
1st birthday of the Arena Lodowa
What does the world say about ISU World Cup in Tomaszów Mazowiecki?
Happy Birthday, Ice Arena!
Joey Mantia's invitation to ISU World Cup in Tomaszów
SEE ALL VIDEOS
See more on
INTERVIEWS, REVIEWS, SPORTSMEN ABOUT US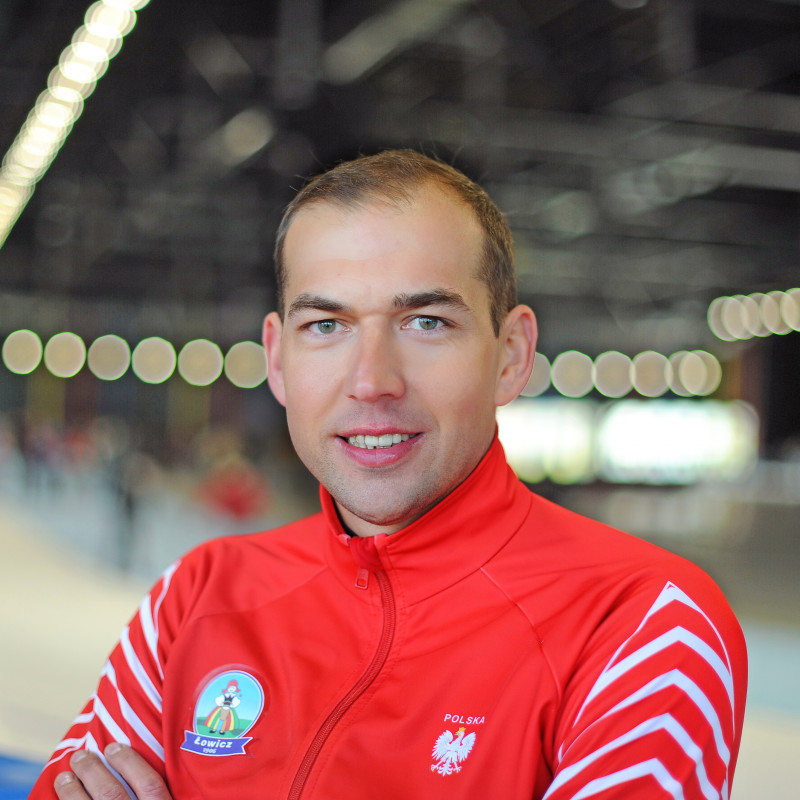 Zbigniew
Bródka
2014 Olympic champion in 1500 metres
We are very impressed. The whole skating world, especially the Polish skating environment is very impressed, because there is the first indoor ice rink in Poland. We are glad even more that this happened before the Olympic Games started in Korea and I hope that it will help Polish skaters to win more Olympic medals. Surely my successors will not struggle as much as our generation. We are keeping our fingers crossed for them right now.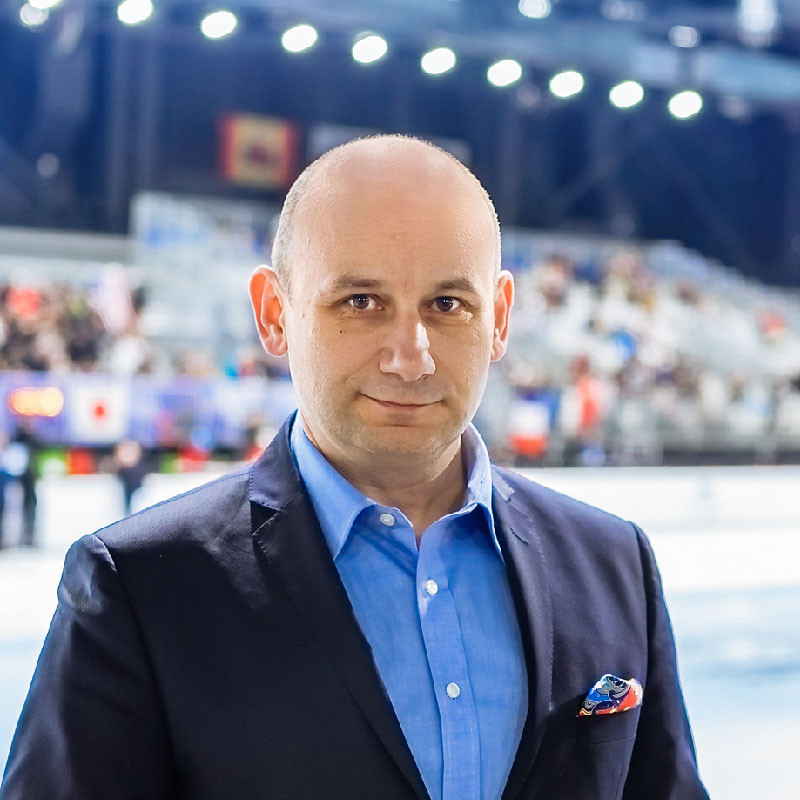 Marcin
Witko
Mayor of Tomaszów Mazowiecki
I'm happy that Tomaszów Mazowiecki became a place where Polish skaters can train. In my opinion, the fact that they will have outstanding achievements in sport is just a matter of time. Thousands of people who attend the ice rink are the proof that Ice Arena is a great success.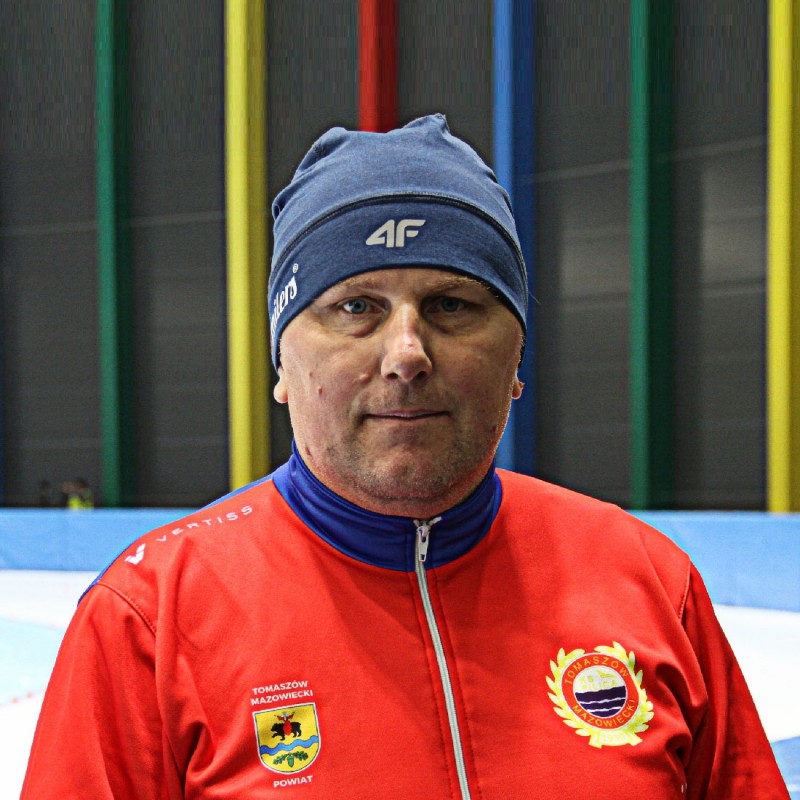 Jaromir
Radke
Polish speed skater from Tomaszów Mazowiecki
It is highly modern building, finally we are in 21st century. We always dreamt of such sports facility because the similar ones had been built abroad already in the 80s. It is a great comfort for our sports discipline. Now we should just encourage the youths to train speed skating.